Idea 4G Unlimited Offer - Idea is now giving 1GB per Day for 3 Months
Idea 4G Unlimited Offer - Introduced new 4G offer, now giving 1GB per Day for 3 Months. As you already know, To compete with Jio, Telecom Industries take some strict steps to attract more users on their network. When Jio Introduced "Jio Summer Surprise Offer" only at Rs303+Rs99(for Prime), Idea also launched its new offer to beat Jio.
The sad truth is that this offer is applicable only for the Idea Postpaid Users. Yeah, it will be great news for them but everyone knows there are not so much number of Postpaid Users as like prepaid users. This can be more attractive offer for those who wants to move from prepaid to the postpaid plan.
Still, No One Beats Reliance Jio
Still, there's no any network providers who can give this kind of plan(Summer Surprise offer) for their users. To grab telecom market Idea and Vodafone merged together. Soon, they will launch some new services and offers to draw up and welcome the users who unsubscribed their services just because of Jio's Free Unlimited Offers.
This time is very tough for the other cellular companies(Idea, Vodafone, Tata Docomo, Airtel, etc). Despite from this Telenor also launched its new 4G offer for their users but the sad news is that they've not much 4G Spectrum. So, they might not have sufficient 4G customers.
If you're Jio Prime User then here's the great news for you.

Click here - Jio Summer Surprise Offer – Continue Free Unlimited Access for 4 Months
Idea 4G Unlimited Offer for Postpaid Users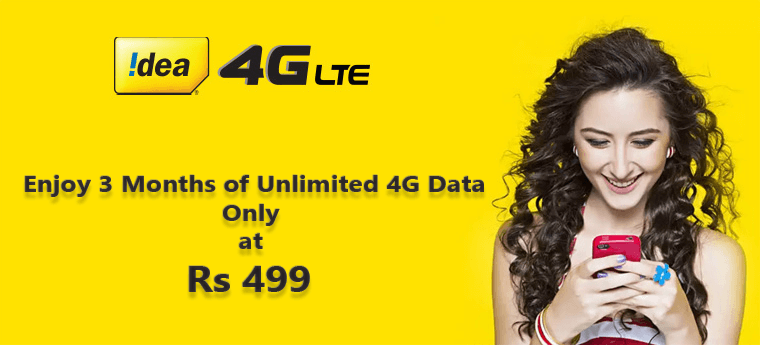 If you're postpaid user and looking for some great and cheap offer then this place is right for you. You can enjoy free unlimited data, calls, and SMS for 3 months. Here is the detail of
Idea 4G Unlimited Offer
.


You can recharge of Rs 499 to access the unlimited joy from Idea


If you have done already recharge of Rs 349 or Rs 498 then you can only have to recharge of Rs 50 to extend this offer to 3 Months


You will get unlimited 1GB 4G data per Day with FUP


Calls and SMS will be unlimited(Unverified)


In this competition, Postpaid users didn't get any offers as like prepaid users. So, That's why Idea took forward this steps for their Postpaid Users.
Idea 4G Unlimited Offer for Prepaid Users
Idea Cellular didn't announce any Unlimited offer for 3 months yet. While Prepaid users can activate the Hourly Unlimited 4G Data Pack of Rs 22. In which, You can use unlimited data without any interruption. Of course this data can be use on 3G headset too. See below steps that will guide you to how to activate Idea 4G Hourly Plan.
1. Idea Hourly Plan at Rs. 22
If you're a new user then you can activate this plan only at 1 Rupee. With this, you will enjoy free unlimited internet for one hour. To Applicabe you have to download Idea App from Google Play Store.


You need minimum balance of Rs 22 on your Idea Mobile Number


To Activate Idea Hourly Pack, Dial USSD Code *150*22# 


This pack valid for only 1 hour. So, don't waste your time to think about what to download or what not to...


2. Idea 4G Unlimited Offer for 1 Month at Rs. 345
This is another great offer from Idea cellular. You can either activate this offer to use unlimited internet, calls, and SMS for whole 1 Month for free. To activate this offer, read and follow up the mentioned steps. You will get 1GB/Day 4G data till end of the month. You can repeat this offer for 12 times, it means every month you have to recharge Rs 345 to continue access of this offer.


Open Google Play Store and Download Idea App


Open that App, and locate to the Offers Tab/Section


You can see the Idea Unlimited offer of Rs 345 for 28 Days


Complete all the procedure and finish transaction